Our Facility
---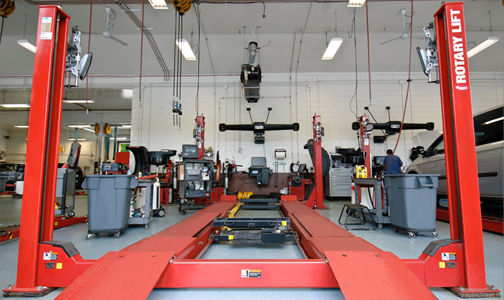 In 2007 Smithtown General Tire and Service unveiled it's new state of the art 7,000 sq. ft. facility. We have 11 service bays, two of which are for dual rear wheel vehicles such as box trucks, cargo vans and heavy-duty pick-up trucks.  In addition, we have two bays equipped with the Hunter Engineering wheel alignment system, recognized as the industry leader.  The remaining bays are equipped with Rotary SmartLifts, the latest technology for safe hoisting of vehicles and approved by leading vehicle manufacturers. In addition, all of our technicians have laptops and internet access to multiple technical data services updates.
Our shops floors are all epoxy for cleanliness and light reflection underneath the vehicle. Our massive implementation of efficient overhead shop lights increases technician efficiency eliminating dark areas and shadows.
We are a ASE Blue Seal shop, meaning at least 75% of our technicians are ASE licensed technicians as well as ASE Master Technicians.
ASE certification is an industry standard measure of high competency and a guide to quality auto repairs.
For more information about ASE, please visit www.ase.com
Our Technicians
---
All of our technicians are salaried workers, which allows for the highest standards to be upheld and encourages workers to take the necessary time to perform the repair with a sense of satisfaction of a job well done.
 All of our technicians are certified in all ASE Categories:
Brake

Electrical

Heating and Air conditioning

Steering & Suspension

Engine

Transmission

Drive Train & Axels

Advanced engine electronic certification
Extra Conveniences 
---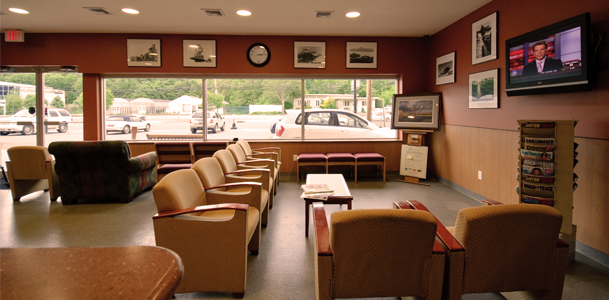 At Smithtown General Tire and Service we offer our customer a waiting area or our Courtesy Shuttle Service.
We offer a modern waiting area for those waiting for service. It is spacious and offers a variety of seating options as well as high-speed wi-fi, so bring your laptop and work from here.  Or if you would like to just relax we have a flat screen TV to watch, newspaper and magazines to read as well as coffee, tea and water to drink.
Drop-off Service
Don't let car repairs slow down your day, we'll be happy to give you a ride to work or home in our Courtesy Shuttle.
We also offer Early Bird/Late Night Drop Box. Simply write your contact information plus any pertinent vehicle info and place your keys in the envelope and drop it into our secure drop box.